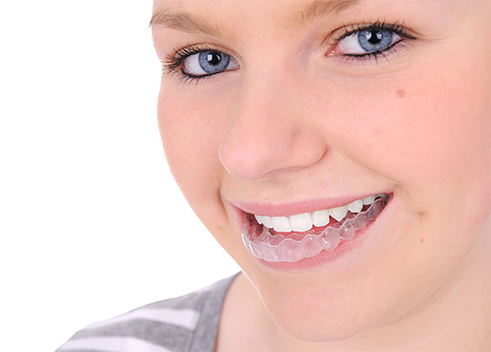 Kool Kids Dentist & Orthodontics are the leading provider of Invisalign teen in Pomona. Give you teen his/her dream smile using the truly invisible Invisalign Teen.
What if there was actually an invisible way to straighten your teen's teeth without the limitations that come with metal braces? Thankfully, it's possible with Invisalign Teen.
Invisalign Teen provides your teenager with a whole new way to straighten his/her teeth virtually without worrying about wearing the conspicuous metal braces. Teenagers can feel embarrassed wearing metal braces while on treatment and this can lower their self-esteem. But with clear Invisalign Teen, your child can achieve the perfect smile without having to hide for the whole period of treatment.
What is Invisalign Teen?
Instead of brackets and wires, Invisalign Teen straightens your teen's teeth by applying a series of removable aligners that that are custom-made to fit into your teenager's teeth. Your teen wears the aligners over their teeth and after two weeks they are changed with a new set of aligners. This helps in moving the teeth in the desired direction and little by little your teen will achieve that dream smile.
Invisalign Teen aligners are the perfect way to straighten teeth and achieve your desired smile because they are:
✓ Invisible or clear
✓ Removable
✓ Comfortable
✓ Durable
✓ Customized just for you
Again, with Invisalign Teen You can easily carry on a conversation at home or school without anyone realizing you're wearing them. This is because Invisalign Teen aligners are not easily noticeable and removable hence cannot interfere with your daily activities.
Invisalign Teen aligners are comfortable and durable. They fit well in any co-curricular activity. You don't have to worry Invisalign Teen inconveniencing you because you play a particular sport or instrument. And if you want to brush or floss, just remove the aligners and continue maintaining your oral hygiene normally.
Read Ana G.'s review of Kool Kidz Dentist and Orthodontics on Yelp
We are dedicated to offering teens with the virtual ways to straighten their teeth without anyone else noticing, using Invisalign Teen
Contact us today to find out if Invisalign Teen is the right treatment option for your teenager.
Why Choose Kool Kidz Dentist for Invisalign Teen Pomona
At Kool Kidz Dentists & Orthodontics we care for all children including teenagers. Our Pomona children's dentist and his expert staff are dedicated to providing you with the best quality Invisalign treatment and dental care in a fun and family-friendly environment.
We pride ourselves in helping teenagers achieve healthy, beautiful smiles through comprehensive Invisalign Teen treatment and dental care.
We are passionate about children, which is why we go an extra mile in providing our teenager patients with a perfect setting that ensures their comfort and safety.
Beautiful Smiles the Invisible Way
Straighten your teeth without anyone noticing using Invisalign Teen in Pomona. Call us at 909.622.7444 to schedule your appointment and find out how we can help you create a beautiful smile the invisible way.