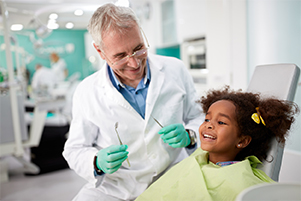 Kool Kidz Dentist & Orthodontics is your best children's dentist in Pomona providing quality kids dentistry for children in Pomona, CA.
At Kool Kidz Dentist & Orthodontics, we care for children of all ages. We provide gentle, family-oriented pediatric dentistry to all children in Pomona community and the surroundings. Our goal is to ensure that your child goes through dental care process in an easier and more comfortable way.
What does a children's dentist do?
Children's dentists, also known as pediatric dentists, are medical practitioners who specialize in providing dental care to infants, toddlers, children, and adolescents. A pediatric dentist is specifically trained in child's psychology and has knowledge about unique dental needs that children have. This means that children dentist can effectively communicate with your child to reduce anxiety and make a dental visit a fun and pain-free experience.
Our children's dentistry office is colorful, fun and child-friendly and is designed to help reduce the anxiety children have when they visit a dentist. We are devoted to turning a visit to the dentist into something your child actually looks forward to by ensuring that children feel comfortable, safe and trusting of the dentist from the onset.
Why should I take my children to see a children's dentist?
Ensuring that children have access to quality dental care is critical to their growth and development. The American Academy of Pediatric Dentistry (AAPD) recommends that children see a children's dentist before the age of one. This is important because biannual preventive dental care is imperative for excellent oral care.
Teeth are delicate body organs that require special attention in order to develop well. Neglecting dental care during childhood can lead to problems later in life that may be too expensive or difficult to correct.
You can enhance your child's smile by letting them see a children's dentist on a regular basis in addition to practicing good oral hygiene. Bring your children to Kool Kidz Dentist & Orthodontics for a comprehensive dental care for kids in Pomona, CA.
Why Choose Kool Kidz Dentist & Orthodontics in Pomona, CA
We're committed to providing comprehensive individualized dental care for every child that focuses on their overall oral care including:
Prevention
We educate kids on what they can do to promote good oral care and prevent tooth decay and other teeth diseases. In addition, our children's dentist will gently apply sealants and fluoride treatments to protect the enamel and minimize the risks of cavities.
Early detection
Our kids' dental specialist in Pomona will perform examinations, X-ray and computer modeling in order to predict future oral problems. This allows your child to start early treatment for optimal outcomes. Some examples of early oral problems are malocclusion (bad bite), bruxism (attrition due to grinding) and jaw irregularities.
Treatment
We offer a wide range of dental care treatments to children in Pomona. Apart from preventive treatments, our Pomona pediatric dentist performs pulp therapy as well as treating oral trauma. In cases where the primary teeth are lost too soon, space maintainers will be provided to ensure the teeth do not become misaligned.
Oral care education
As the best children's dentist in Pomona, we have a wealth of knowledge about the latest advances in the kids' dentistry field. We provide both beneficial information and guidance about new diagnostics procedure and oral care to kids during your visit.
When you come to our children dentist office in Pomona, expect your child to be treated respectfully and with gentle care. Our Pomona children's dentist and friendly staff are specially trained to handle children with care and comfort.
Request an Appointment
Schedule an appointment with the best children and kids dentist in Pomona, CA. Contact us online or call our office at (909)-622-7444.